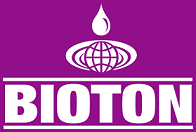 Bioton Corporation Sdn Bhd
(753804-M)
is an established and licensed beverages manufacturer since 2006. Our processing and packaging equipment are in compliance with stringent hygiene requirements set by Ministry of Health Malaysia. We have to date acquired Halal Certification from the National Islamic Department. As reference, Our major clients of OEM (Private Label) packing for Carbonated Flavored Drinks includes Tesco Stores Malaysia
and The Coffee Bean & Tea Leaf Malaysia. We also offer our OEM (Private Label) packing to local and International chains of franchise food and beverages outlets.
Currently, our products listing includes: Carbonated Flavored Drinks, Flavored Tea Drinks, Isotonic Drinks, Energy Drinks, Functional Beverages, Traditional Cooling Water and several brands of Natural Mineral Water. For your information, Natural Mineral Water and Traditional Cooling Water are produced by our associate company Vitaton (M) Sdn Bhd.
Vitaton (M) Sdn Bhd is an established and licensed Natural Mineral Manufacturer since 1991. Our water source, processing and packaging equipment are in compliance with stringent hygiene requirement set by the Ministry of Health Malaysia. To date, We are recognized as the leading producer of Natural Mineral Water in Malaysia and have acquired HACCP & GMP Certification from the Ministry of Health Malaysia, Halal Certification from the Department of Islamic Development Malaysia (JAKIM) and ISO 22000:2005 & PAS 220:2008 Certification by Lloyd's Register Quality Assurance Ltd. Our major clients includes F&N Singapore and Malaysia, Coca-Cola Bottlers Malaysia, Coca-Cola Singapore Beverages and 80% penetration into major hotels in Malaysia, namely Shangri-La's Group, Renaissance Hotel Group, Equatorial Hotel Group and etc.
certification acquired by Vitaton (M) Sdn Bhd